History of the Rock Food Table

We will start from the beginning and bring you to the present. The founders
of the "Rock Food Table," originally known as the "Gulf Coast Gem and
Mineral Society Food Table," were Bill and Lois Pattillo. They brought the
idea to life and set up the exhibit from 1983 – 2013. As with all of us, we get
old, so the table ownership changed to Keith and Toni Harmon. And from
the Harmons it went to East Texas Gem & Mineral Society. Now let us get to
some history.
How it all Started
While on vacation in the Northwest in 1982, Bill and Lois Pattillo had the opportunity to attend the Portland, Oregon Gem and Mineral Show. They were busy enjoying the show and we noticed an exhibit of pastries. There was a cake, sweet roll, piece of pie, and several other items of rock that looked like food. They didn't give this sighting much thought until they returned to their home in Robstown, Texas. This is when Lois Pattillo had the idea to exhibit a table of rocks that look like food. They were the owners of several rocks that looked like food at that time. Lois decided to extend an invitation to our club members, Gulf Coast Gem and Mineral Society in Corpus Christi, Texas, to bring our rock food items to display at the March, 1983 show. There was quite a discussion about a display of rocks that look like food and quite a few members of the club did bring their items and the first "Rock Food Table" was exhibited at the show. There were even several members that had rocks that looked like food, but they were quite skeptical to admit it, so they did not contribute to the first exhibition. After the display was set up and the members could see what was taking place, then they began to see the food in their rocks and they contributed the next time the table was set up for exhibit.

The Rock Food Table was presented as a project of the Gulf Coast Gem and Mineral Society and because it was Lois' idea, they took it to different Gem Shows, when asked to include it in their show. It was quite by accident that it has been exhibited at other shows. At their first show, in 1983, some Club members from San Antonio, Texas came to their show and were completely struck with awe. They inquired of Lois, would she bring it to San Antonio the next weekend, and set it up as a special exhibit. After thinking about it, Lois agreed to try to take it to other Gem Shows. Well, you know how that goes. They were at San Antonio and Houston asked us to bring it to the Houston show. Jackson, Mississippi saw the Table at Houston and then the exhibit was off to Jackson. Montgomery, Alabama saw the display at Jackson and this meant a trip to Montgomery, Alabama.

Since the first showing, in 1983, the Table has been to 41 different show locations and we have traveled over 100,000 miles. The list of different shows reads like: Abilene, Texas; Alexandria, Louisiana; Alpine, Texas; Arlington, Texas; Austin, Texas; Bellaire Nature Center in Houston, Texas; Big Springs, Texas; Birmingham, Alabama; Clarita, Oklahoma; Clear Lake, Texas; Dallas, Texas; Fort Worth, Texas; Glen Rose, Texas; Harlingen, Texas; Gulfport, Mississippi; Huntsville, Alabama; Hickory, North Carolina; Houston, Texas; Jackson, Mississippi; Jacksonville, Florida; Kansas, City, Missouri; Kingsland, Texas; Leesville, Louisiana; Lubbock, Texas; Midland, Texas; Montgomery, Alabama; New Orleans, Louisiana; Oklahoma City, Oklahoma; Panama City, Florida; Pascagoula, Mississippi; Pharr, Texas; San Antonio, Texas; Shreveport, Louisiana; Springfield, Missouri; Stephenville, Texas; Tyler, Texas; Victoria, Texas; Waco, Texas; Wichita, Kansas; Wichita Falls, Texas; and of course, Corpus Christi, Texas. Some of the shows have invited the exhibit to return for the next year's show. One club has invited the exhibit back for the past 16 years.

There is hardly a show, where the exhibit is set up that there is not an incident to report on. They have had people try to throw away some of the items thinking that they were left on the table by accident. One young man even confessed that he had, while they were away from the exhibit for a few minutes, put an item in his mouth thinking it was edible, but luckily, he did not bite down on it hard and did not damage his teeth. There are four "Do Not Touch" signs on the table, but quite a few times, it's the child that reads the sign and tells the parent that they should not touch the food items. It's not that they could damage the food items, but the fact that rocks break plates and we do wish that our plates not get damaged.

Most of the rocks in the collection are in their natural state. They may be cut to show what the rock looks like on the inside or shaped to form the shape of the natural food. Some of the pieces are dyed to resemble the food that the rock is representing. A few of the items have been purchased, but most have been collected while on rock hunts. Some of the items have been given to us by other rock hounds. To them, it is just a rock, but to the Rock Food Table it is a great addition to the collection.

Lois and Bill have tried to stay near the exhibit to answer questions about the exhibit and try to relate the earth sciences to the younger generation. They have noticed that people, in general, are pointers. People cannot stand and talk about the different items without pointing to the item that is being discussed. They have also noticed that people, again in general, tend to smile while looking the table over. They have seen many people come to the table with a somber look on their faces and leave looking pleased. They have yet to see someone come up to the table with a smile and walk away with a frown. The table is truly an enlightening experience and our reward is seeing people enjoy the Gulf Coast Gem and Mineral Society Food Table while attending a gem show.
Passing the Torch

In 2013, Bill and Lois came to the realization that they weren't spring chickens anymore.
The exhibit was becoming too much to handle. In January of 2014, the Rock Food Table didn't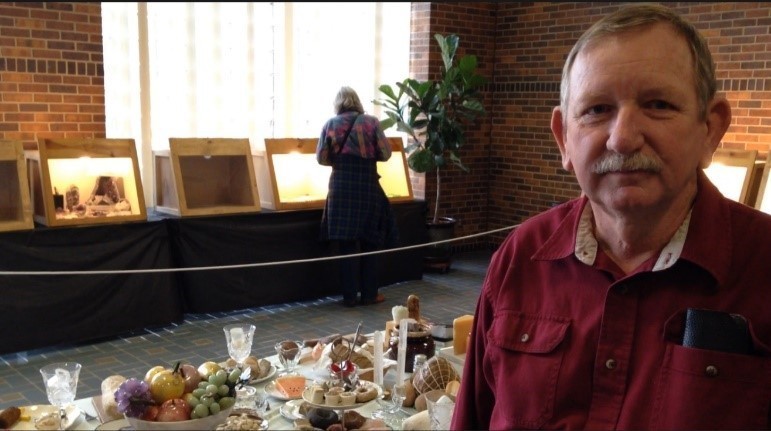 attend the East Texas Gem & Mineral Society's Gem & Jewelry Show. It was highly anticipated and surely missed. This is when Keith and Toni Harmon acted. Let me give you a little background about Keith Harmon. Keith is a member of ETGMS, our Show Chairman, and a strong advocate for rock clubs. He knew that if something wasn't done, the exhibit might be lost forever. Keith Harmon purchased the Rock Food Table on November 14, 2014. When Keith gave me the news, he said that the exhibit will never miss our show again. But after a couple of years, the added work of setting up the exhibit, along with setting up his dealer's booth was a little more than he wanted to tackle. He's not a spring chicken either. You guessed it, time to pass the torch again. In March of 2017, Keith and Toni donated the Rock Food Table to ETGMS.

New Beginning

Now that the ETGMS is in possession of the exhibit, it will begin to start its new journey around the country. ETGMS intends to transport the Rock Food Table to as many venues as possible. We have brought it to Kansas City, Missouri and Huntsville, Alabama, and this is only the beginning, if we have one of our members available to transport it. For the round-trip cost of fuel, lodging, and a $300.00 donation, we will bring it to your venue, set it up, and have one of our members there to greet visitors. If you are interested in having the Rock Food Table attend your show, contact Kinney Polve at kpolve@gmail.com
Next time you can see the Rock Food Table:

January 24-26, 2020 - ETGMS Gemstone & Jewelry Show, Rose Garden Center, Tyler, Texas
February 22 - 23, 2020 - Clear Lake Gem & Mineral Society Show, Houston, Texas